Bardiani CSF in Croazia per Istrian Spring Trophy
Pubblicato il: 13-03-19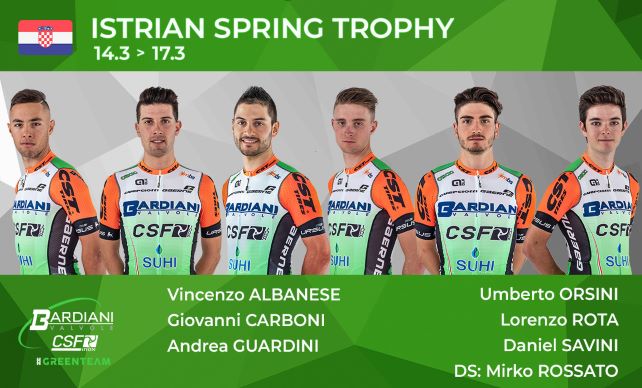 Terzo appuntamento in Croazia nell'arco di una settimana per la Bardiani-CSF. Dopo Umag e Porec Trophy, dove ha raccolto un secondo posto con Guardini e un quinto con Maronese, la squadra affronta da domani, giovedì 14 marzo, la quattro giorni dell'Istrian Spring Trophy.
La corsa si aprirà con velocissimo prologo di 2 km nella città di Umag, seguito da tre tappe in linea con percorsi misti e nervosi. Sei corridori i corridori chiamati a cercare il primo successo stagionale per la Bardiani-CSF: Andrea Guardini (unico "reduce" dall'impegno di Umag e Porec), Vincenzo Albanese, Giovanni Carboni, Umberto Orsini, Lorenzo Rota (già impegnati domenica a Larciano) e Daniel Savini, al debutto stagionale.
"Volevamo e dovevamo fare meglio nelle prime due gare" ha affermato Mirko Rossato, guida tecnica della Bardiani-CSF. "L'Istrian Spring Trophy deve essere la gara per riscattarsi. Abbiamo una squadra di spessore che può e deve essere competitiva ogni giorno".
Bardiani-CSF (6 corridori)
Vincenzo Albanese (1996) - completo
Giovanni Carboni (1995) - completo
Andrea Guardini (1989) - velocista
Umberto Orsini (1994) - passista
Lorenzo Rota (1995) - completo
Daniel Savini (1997) - scalatore
DS: Mirko Rossato
BARDIANI-CSF TO ISTRIAN SPRING TROPHY
Third race in Croatia within a week for Bardiani-CSF. After Umag and Porec Trophy, where it took second place with Guardini and a fifth with Maronese, the team faces the four days race Istrian Spring Trophy from tomorrow, March 14 to the 17th.
The race will be introduced by a very fast prologue of 2 km in the city of Umag, followed by three road race stages with mixed and nervous routes. Six riders are called to look for the first success of the season for Bardiani-CSF: Andrea Guardini (the only one who raced in Umag and Porec), Vincenzo Albanese, Giovanni Carboni, Umberto Orsini, Lorenzo Rota (engaged on Sunday in Larciano) and Daniel Savini, making his seasonal debut.
"We wanted and we had to do better in the first two races," said Mirko Rossato, technical guide of Bardiani-CSF. "The Istrian Spring Trophy must be the race of our relaunch. We have a solid and equipped team that can, and must, be competitive every day."
Bardiani-CSF (6 riders)
Vincenzo Albanese (1996) - all-rounder
Giovanni Carboni (1995) - all-rounder
Andrea Guardini (1989) - sprinter
Umberto Orsini (1994) - rouleur
Lorenzo Rota (1995) - all-rounder
Daniel Savini (1997) - climber
DS: Mirko Rossato
Comunicato stampa