Bardiani CSF in Malesia per il Tour de Langkawi
Pubblicato il: 04-04-19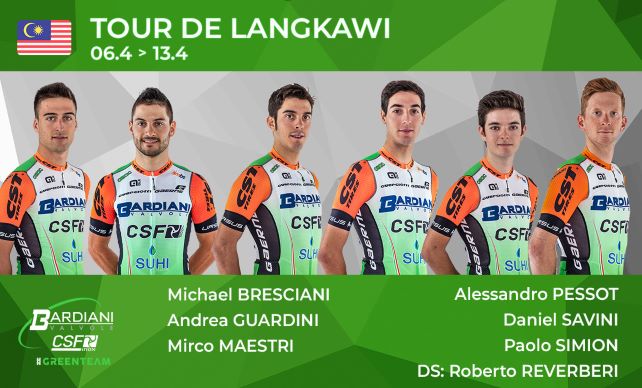 La Bardiani-CSF è atterrata oggi a Kuala Lumpur e, dopo due giorni di ambientamento, darà battaglia nell'edizione 2019 del Tour de Langkawi. A partire da sabato 6 aprile, per otto tappe, il #GreenTeam punterà a ritrovare il feeling con la vittoria.
Con almeno cinque frazioni buone, sulla carta, per i velocisti, Andrea Guardini sarà il punto di riferimento della Bardiani-CSF. Con i suoi 24 successi di tappa e le quattro maglie a punti, il veronese è parte integrante della ventennale storia del Tour de Langkawi e, a pieno titolo, la star della corsa.
Obiettivo primario del #GreenTeam sarà dunque permettergli di allungare la striscia di vittorie (due i sigilli nel 2018). Al suo fianco ci saranno i passisti Mirco Maestri e Alessandro Pessot oltre ai velocisti Paolo Simion e Michael Bresciani che, in caso di necessità, potranno giocarsi le loro carte. Completa la formazione il giovane Daniel Savini, al debutto in Malesia, che sarà di supporto alla squadra e, nella tappa regina di Genting Highlands (quarta), potrò mettere in evidenza le sue doti di scalatore. La squadra sarà guidata in ammiraglia da Roberto Reverberi.
Bardiani-CSF (6 corridori)
Michael Bresciani (1994) - velocista
Andrea Guardini (1989) - velocista
Mirco Maestri (1991) - passista
Alessandro Pessot (1995) - passista
Daniel Savini (1997) - scalatore
Paolo Simion (1992) - velocista
DS: Roberto Reverberi

BARDIANI-CSF IN MALAYSIA FOR TOUR DE LANGKAWI
Guardini, the most winning rider in race history, leads the #GreenTeam on the hunt for stages from 6 to 13 April
Bardiani-CSF has landed today in Kuala Lumpur and, after two days of acclimatization, will give battle in the 2019 edition of Tour de Langkawi. Starting from Saturday, April the 6th, for eight stages the #GreenTeam will aim to find the feeling with the victory.
With at least five stages good, on paper, for sprinters, Andrea Guardini will be the leader of Bardiani-CSF. With his 24 stage successes and four points jerseys, the Italian sprinter is a key rider in the history of Tour de Langkawi.
The primary goal of the #GreenTeam will be the support to Guardini to extend its winning streak (two seals in 2018). At his side there will be rouleurs Mirco Maestri and Alessandro Pessot as well as sprinters Paolo Simion and Michael Bresciani who, in case of need, will be able to play their cards. Young climber Daniel Savini, at his debut in Malaysia, will complete the roster with the role of supporter and attacker, especially in view of queen stage of Genting Highlands (fourth). The team will be led by directeur sportif Roberto Reverberi.
Bardiani-CSF (6 riders)
Michael Bresciani (1994) - sprinter
Andrea Guardini (1989) - sprinter
Mirco Maestri (1991) - rouleur
Alessandro Pessot (1995) - rouleur
Daniel Savini (1997) - climber
Paolo Simion (1992) - sprinter
DS: Roberto Reverberi
Comunicato stampa