Capitan Durasek vince la Trevalli Varesine
Pubblicato il: 23-08-13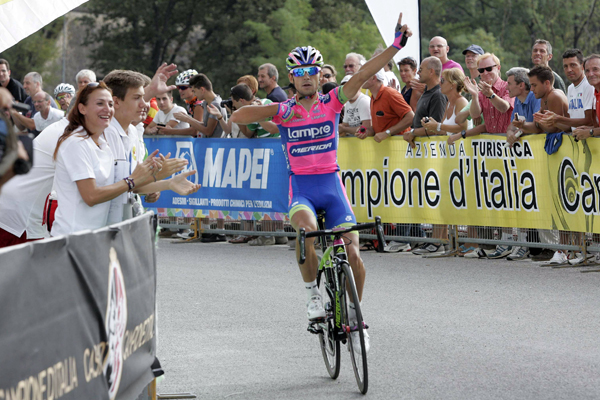 Lo avevamo visto pimpante già alla Coppa Agostoni in salita, la condizione era ottima ed oggi con i gradi di capitano Durasek non ha tradito le attese, portando alla Lampre Merida la seconda vittoria su tre gare del Trittico Lombardo (vittoria di Pozzato alla Coppa Agostoni e un secondo di Ferrari nella Coppa Bernocchi).
Il lavoro dei ragazzi del Ds Piovani è iniziato già dalle prime battute con il giovane neo acquisto Polanc che dopo soli 2 km di gara ha centrato la fuga di giornata. Dodici corridori che lungo il percorso ed il circuito intermedio di Luino si sono ridotti poi a sole sei unità, sino a 25 km dal traguardo dove il loro attacco è stato annullato da quel che restava del gruppo. Polanc non ha però esaurito qui le sue energie, insieme a Pietropolli ha poi infatti condotto un finale di gara perfetto nello scortare Durasek e Cunego in perfette condizioni ai piedi della salita finale di Campione d'Italia. Sulle prime rampe dell' erta finale il primo corridore a creare la vera selezione è stato Bongiorno (Bardiani CSF), sul quale si è prontamente riportato poi anche Durasek. A circa 1,5 km dal traguardo una pericolosa progressione di Kolobnev ha fatto tremare il tandem di testa, nel quale Durasek con grande intelligenza t attica è riuscito a gestire bene le sue forze, sfoggiando un' ottima accelerazione nelle ultime centinaia di metri che lo ha visto arrivare al traguardo in solitaria , conquistando così la sua prima vittoria con il Team Lampre Merida. Cunego non è mai entrato nel vivo della gara nelle rampe della salita finale, giungendo al traguardo attardato al di fuori della top ten, probabilmente ancora un pò a corto di ritmo dopo la pausa in altura post Tour de France.
Queste le parole del vincitore : " Dopo le buone sensazioni che ho avvertito alla Coppa Agostoni oggi ho chiesto alla squadra di credere in me, ero davvero determinato e nulla mi faceva paura. Ringrazio Polanc e Pietropolli che mi hanno scortato perfettamente ai piedi dell'ultima salita, dove grazie alla bella azione di Bongiorno mi sono trovato subito in testa. Da li ho gestito bene le mie forze, nonostante la pressione della rimonta di Kolobnev. Nel finale ho quindi avuto ancora le forze per un ultima progressione che mi ha portato alla mia prima vittoria in maglia Lampre Merida. Sono davvero contento di aver mostrato le mie doti, e spero di proseguire su questa strada."
ORDINE D'ARRIVO
1. Kristijan Durasek (Lampre Merida) in 5.01'21"
2. Francesco Bongiorno (Bardiani CSF)
3. Alexandr Kolobnev (Katusha)
4. Ivan Rovny (Ceramica Flaminia)
5. Davide Rebellin (CCC Polsat)
6. Franco Pellizotti (Androni Venezuela)
7. Fabio Aru (Astana)
8. Simone Ponzi (Astana)
9. Matteo Rabottini (Vini Fantini Selle Italia)
10. Sergey Firsanov (Rusvelo)

We'd already seen him perky at Coppa Agostoni on the climbs, the condition was great and today with the rank of captain Durasek not lived up to expectations, leading to Lampre Merida the second win in three races of the Trittico Lombardo (Pozzato 1st at Coppa Agostoni and one second of Ferrari in Coppa Bernocchi ).
The work of Ds Piovani's guys started already from the start with the young new signing Polanc that after just 2 km race has hit the escape of the day. Twelve runners along the course and the intermediate circuit of Luino were later reduced to only six units, to 25 km from the finish where their attack was canceled by the remnants of the group. Polanc, however, has not exhausted his energies here, along with Pietropolli then in fact conducted a final race in the perfect escort of Durasek and Cunego at the foot of the final climb of Campione d'Italia. At first ramps of the final climb the first rider to create the real selection was Bongiorno (Bardiani CSF), on which it is readily shown then also Durasek. At about 1.5 km from the finish a dangerous progression by Kolobnev has shaken the tandem of head, in which Durasek with great tactical intelligence was able to cope well with his forces, showing off a good acceleration in the last few hundred meters that has saw him at the finish line alone, thus gaining his first win with Team Lampre Merida. Cunego is never entered into the heart of the race in ramps of the final climb, reaching the finish line lingered outside the top ten, probably still a bit short of pace after the break on high ground post Tour de France.
These are the words of the winner: "After the good feelings that I felt at the Coppa Agostoni, today I asked to the team to believe in me, I was really determined and nothing scared me. Thank Polanc and Pietropolli who escorted me perfectly at the foot of the last climb, where, thanks to good work from Bongiorno, immediately found myself in the head. From there I managed well my strength, in spite of the pressure of the comeback by Kolobnev. Then in the end I still had the strength to a last progression that led me to my first victory in Lampre Merida jersey. I'm really glad I showed my talent, and I hope to continue on this path. "
ORDER OF ARRIVAL
1. Kristijan Durasek (Lampre Merida) in 5:01 '21 "
2. Francesco Bongiorno (Bardiani CSF)
3. Alexandr Kolobnev (Katusha)
4. Ivan Rovny (Ceramica Flaminia)
5. Davide Rebellin (CCC Polsat)
6. Franco Pellizotti (Androni-Venezuela)
7. Fabio Aru (Astana)
8. Simone Ponzi (Astana)
9. Matthew Rabottini (Wines Fantini Selle Italy)
10. Sergey Firsanov (Rusvelo)
Comunicato Stampa