LAMPRE MERIDA, trasferta in Australia per il debutto stagionale
Pubblicato il: 25-12-13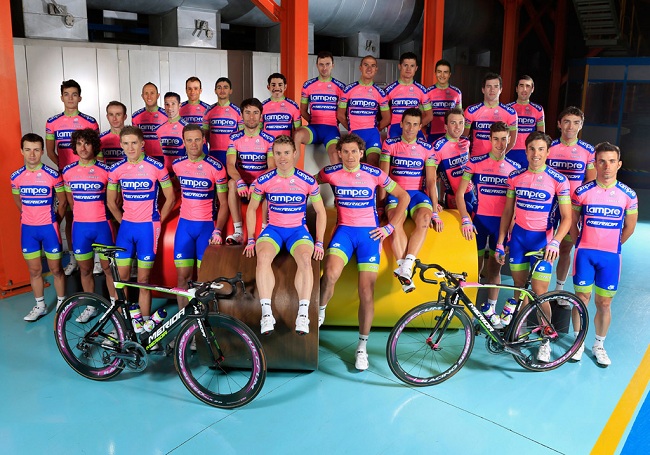 Ancora una volta sarà l'Australia il palcoscenico dell'esordio stagione della LAMPRE-MERIDA.
Il 2014 della formazione blu-fucsia-verde inizierà il 19 gennaio con il Criterium People's Classic, per proseguire con la corsa a tappe Santos Tour Dow Under (21-26 gennaio, primo appuntamento del circuito World Tour).
Questi i corridori che, diretti da Bruno Vicino, correranno in Australia: Matteo Bono, Davide Cimolai, Roberto Ferrari, Manuele Mori, Rafael Valls Ferri, Diego Ulissi e Luca Wackermann.
Lo staff operativo sarà composto dai massaggiatori Capelli e Napolitano, dai meccanici Romanò e Tiede e dal dottor De Grandi.
"Cimolai e Ferrari saranno le nostre ruote veloci: hanno lavorato bene durante l'inverno, il Tour Down Under sarà già un primo importante test - ha spiegato il ds Vicino - Sarà interessante vedere all'opera Ulissi, al suo fianco Mori, Bono e Wackermann avranno tutti una certa libertà d'azione. Un benvenuto infine a Valls, al debutto con la LAMPRE-MERIDA".
L'edizione 2014 del Tour Down Under segnerà l'esordio assoluto di Ulissi in Australia: "Mi elettrizza l'idea di vivere questa nuova esperienza: per la prima volta andrò in Australia, vorrei proprio apprezzare fino in fondo questa opportunità. Ho viaggiato molto durante la mia carriera, ma la sfida australiana mi offre nuove motivazioni. Per quanto riguarda le ambizioni, bisogna considerare che il Tour Down Under giunge proprio all'inizio della stagione, quando in Europa siamo in pieno inverno, di conseguenza non sarà facile puntare in alto. Ovviamente, se dovessero presentarsi le giuste condizioni per fare risultato, farò affidamento alla mia grinta per iniziare la stagione già con il giusto piglio".

Travel to Australia for the seasonal debut
Once again, Australia will be the stage on which Team LAMPRE-MERIDA will make his seasonal debut.
2014 season for blue-fuchsia-green team will begin on 19 January in People Choice's Classic criterium, that will be soon followed by World Tour race Santos Tour Down Under (21-26 January).
Seven riders will be directed by Bruno Vicino: Matteo Bono, Davide Cimolai, Roberto Ferrari, Manuele Mori, Rafael Valls Ferri, Diego Ulissi and Luca Wackermann.
In the operating staff thrre will be masseurs Capelli and Napolitano, mechanics Romanò and Tiede and doctor De Grandi.
"Cimolai and Ferrari will be our key riders for sprints: I know they lived a good rest period, so I think they could aim for interesting results - sport director Vicino explained - It will be also interesting to evaluate the competitiveness of Ulissi and, on his side, the one of Mori, Bono and Wackermann, who will have all freedom to chase a result. Welcome to Valls, at his first race in Team LAMPRE-MERIDA".
Ulissi's comment: "I'm really excited to live the Australian experience: it will be my first time in the Land Down Under, so I'm willing to fully live this new opportunity. I travelled a lot during my career, but Australian challenge gives me new spurs.
Talking about my aims, it's necessary to consider that Tour Down Under comes very early in the season, so it won't so easy to go there to get a result, but of course I won't brake if there will be the chance to battle for a very good performance.
Tour Down Under is a very interesting race for what concerns the courses and the chance that gives to the riders to work in the heat in order to improve the condition.
Team LAMPRE-MERIDA could be competitive, considering that in the team there will be two fast riders such Ferrari and Cimolai, Mori that likes so much mixed courses and three generous athletes such Bono, Valls and Wackermann.
So, let's start the season in a good way in Australia".
Comunicato Stampa