Bardiani CSF, al Trofeo Laigueglia
Pubblicato il: 13-02-19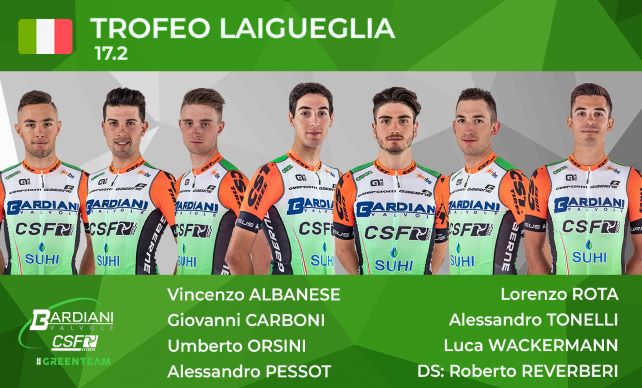 La stagione italiana è pronta a vivere il primo atto che, come da tradizione, sarà sulle strade del Trofeo Laigueglia. Domenica 17 si correrà l'edizione numero 56, valida come prima prova della Ciclismo Cup, e vedrà la Bardiani-CSF tra le squadre protagoniste.
Il percorso, che ricalca quello delle edizioni precedenti per 203 km totali, riserva sempre grande incertezza sull'esito. Dall'arrivo in volata con gruppo ristretto all'azione da finisseur, l'arrivo del Laigueglia non è mi scontato.
Il GreenTeam si presenterà al via con una formazione attrezzata ad ogni evenienza. Vincenzo Albanese la ruota più veloce, seguito da Luca Wackermann e Lorenzo Rota; Giovanni Carboni e Alessandro Tonelli coloro che possono provare a fare la differenza da lontano, affiancati dai passisti Umberto Orsini e Alessandro Pessot, alla sua prima da professionista.
"Tra tutte le variabili da considerare in debutto, per giunta in una corsa tosta come il Laigueglia, c'è una sola certezza: la voglia di partire con il piede giusto" ha spiegato il DS Roberto Reverberi, guida tecnica della Bardiani-CSF. "Le settimane dopo il ritiro in Spagna sono state positive per tutti. C'è chi ha prolungato la permanenza per allenarsi ancora il caldo e chi ha svolto lavori specifici per rifinire la condizione. Le premesse per un buon debutto in Italia ci sono tutte".
Bardiani-CSF (7 corridori)
Vincenzo Albanese (1996) - completo
Giovanni Carboni (1995) - completo
Umberto Orsini (1994) - passista
Alessandro Pessot (1995) - passista
Lorenzo Rota (1995) - completo
Alessandro Tonelli (1992) - passista
Luca Wackermann (1992) - completo
DS: Roberto Reverberi
BARDIANI-CSF TO DEBUT IN ITALY AT TROFEO LAIGUGLIA
The Italian season is ready to live the first act that, as usual, will be on the roads of Trofeo Laigueglia. On Sunday 17 is in the schedule the edition number 56, valid also as first round of Cycling Cup, and will see Bardiani-CSF among the teams protagonists.
The route, the same of the previous editions with a distance of 203 km, always leaves great uncertainty about the outcome. From a small group sprint arrival to an action by a finisseur, the arrival of Laigueglia is really unpredictable.
For every eventuality, the #GreenTeam will present itself at the start with a well equipped roster. Vincenzo Albanese the fastest wheel, followed by Luca Wackermann and Lorenzo Rota; Giovanni Carboni and Alessandro Tonelli those who can try to make the difference from afar, supported by rouleurs Umberto Orsini and Alessandro Pessot, at his first as professional.
"Among all the variables to be considered in a debut, in addition to a tough race like the Laigueglia, there is only one certainty: the desire to start on the right foot" explained DS Roberto Reverberi, technical guide of Bardiani-CSF. "The weeks after the camp in Spain were positive for everyone. There are those who have prolonged their stay tand those who have done specific work to refine the condition at home. There are all the premises for a good debut in Italy ".
Bardiani-CSF (7 riders)
Vincenzo Albanese (1996) - all-rounder
Giovanni Carboni (1995) - all-rounder
Umberto Orsini (1994) - rouleur
Alessandro Pessot (1995) - rouleur
Lorenzo Rota (1995) - all-rounder
Alessandro Tonelli (1992) - rouleur
Luca Wackermann (1992) - all-rounder
DS: Roberto Reverberi
Comunicato stampa