Roel Paulissen vince La Vecia Ferovia
Pubblicato il: 03-08-15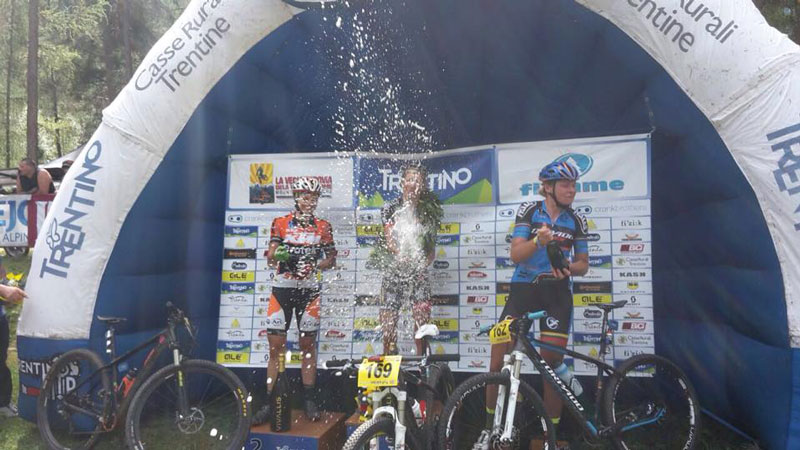 Roel Paulissen vince ancora, dopo 8 giorni è nuovamente sul gradino più altro del podio, sua l'edizione 2015 de la Vecia Ferovia de la Val di Fiemme. Sale quindi a cinque il numero dei successi firmati dal campione belga Roel Paulissen in questa stagione.
Più di 1350 partenti al via della 19a edizione della corsa trentina, valida come 4a Tappa del Circuito Trentino MTB. Si infiamma subito la corsa: al comando si porta un drappello composto da una ventina di bikers. A far esplodere il drappello ci ha pensato il Muro della Pala, strappo di 1 km con una pendenza media del 18,25%. E' stato in quel punto che Paulissen ha affondato il colpo, trovando però la reazione di Rabensteiner. Nell'inedito finale, però, il #TorpRider belga ha fatto valere la sua maggiore esplosività, tagliando in prima posizione il traguardo.
Nella gara femminile, invece, giornata difficile per la campionessa lituana, Katazina Sosna, che ha avuto problemi fisici, ma grazie alla determinazione ha concluso la sua corsa in terza posizione ed è salita sul podio del Vecia Ferovia de la Val di Fiemme.
Questo il commento di Sandro Lazzarin, Team Manager della Scuderia Torpado Factory Team: "E' stata una corsa intensa e impegnativa fin dall'inizio. In salita Roel ha fatto selezione e ha imposto subito un ritmo molto elevato, è sempre stato in testa. Sul finale, ha anticipato nettamente il vincitore uscente. Un'altra ottima prestazione. Brava anche Katazina, che non era al top, ma ha comunque corso con testa e determinazione e ha ottenuto un buon terzo posto. Siamo soddisfatti".
Classifica maschile:
1Roel Paulissen (Torpado Factory Team) in 1h :29' 43''
2 Fabian Rabensteiner (Team Selle San Marco Trek) a 01"
3 Vito Buono (Carbonhubo) a 03"
4 Francesco Casagrande (Cicli Taddei) a 05"
5 Martino Fruet (Carraro Team Trentino Ale') a 09"
Classifica femminile:
1 Elena Gaddoni (Scapin Soudal Pro Racing Team) in 1h, 42' e 47"
2 Mara Fumagalli (Ktm Protek Dama) a 1' e 24"
3 Katazina Sosna (Torpado Factory Team) a 2' e 02"
4 Elena Giacomuzzi (Btt Loule Bpi) a 4' e 38"
5 Greta Seiwald (Evolution Team) a 5' e 35"
ROEL PAULISSEN WON ALSO THE "LA VECIA FEROVIA".
Roel Paulissen won again, after eight days he is again on the highest step of the podium. He won 2015 edition of the "Vecia Ferovia de Val di Fiemme". Then are five the number of successes signed by the Belgian champion, Roel Paulissen, in this season.
More than 1,350 bikers at the start of the 19th edition of the race, valid as the fourth stage of the Trentino MTB Circuit. Twenty bikers, soon in the front, Paulissen lead all the race. To blow up the squad it had thought the Wall of Pala, tearing than 1 km with an average slope of 18,25%. It was at that point that Paulissen sank the shot, while finding the reaction Rabensteiner. However, the Belgian #TorpRider thanks also his experience and explosion, cutting the finish line in first position.
In the women's race, however, difficult day for the champion of Lithuania, Katazina Sosna, who has had physical problems, but thanks to the determination he ended her race in third place and she took the podium at Vecia Ferovia de Val di Fiemme.
These are the words of Sandro Lazzarin, Torpado Factory Team Team Manager: "It was an intense and challenging race from the start. On the uphill Roel made selection and immediately imposed a very high cadence, he was always in the lead. On the final, anticipated clearly the winner outgoing. Another excellent performance. Good job also for Katazina, who was not at the top, but still over-head and determination and she got a good third place. We are satisfied".
C.S.