Bardiani Valvole, bilancio della stagione
Pubblicato il: 15-10-13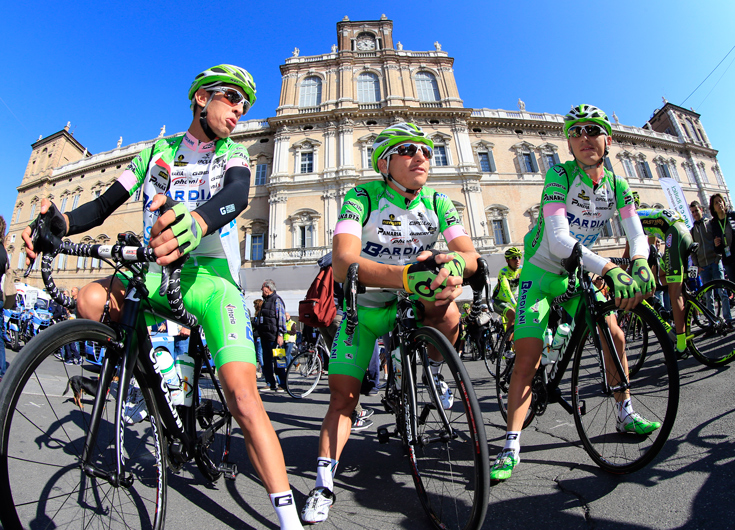 Con il GP Beghelli di Domenica 13 Ottobre e il 5° posto conquistato in volata da Sonny Colbrelli è terminata la stagione del Bardiani Valvole – CSF Inox Pro Team, iniziata a fine Gennaio in Argentina con il Tour de San Luis.
La più giovane squadra tra le compagini World Tour e Pro Continental ha conquistato nel 2013: 11 successi, 20 podi, 77 Top-10 in 121 giorni di corsa. Tra le varie vittorie le più importanti sono state senza dubbio quelle conquistate al 96° Giro d'Italia, con Enrico Battaglin fantastico vincitore della 4° tappa e con Stefano Pirazzi capace di primeggiare nella Classifica dei Gran Premi della Montagna.
VITTORIE
• 2° Tappa Tour de San Luis (ARG) – Sacha Modolo
• 4° Tappa Giro d'Italia (ITA) – Enrico Battaglin
• 1° Tappa Tour of Qinghai Lake (CINA) – Sacha Modolo
• 4° Tappa Tour of Qinghai Lake (CINA) – Sacha Modolo
• 8° Tappa Tour of Qinghai Lake (CINA) – Sacha Modolo
• 9° Tappa Tour of Qinghai Lake (CINA) – Sacha Modolo
• 11° Tappa Tour of Qinghai Lake (CINA) – Sacha Modolo
• 12° Tappa Tour of Qinghai Lake (CINA) – Sacha Modolo
• Coppa Bernocchi (ITA) – Sacha Modolo
• 2° Tappa Tour du Limousin (FRA) – Andrea Pasqualon
• Memorial Pantani (ITA) – Sacha Modolo
ALTRI SUCCESSI
• Classifica Miglior Giovane Settimana Coppi & Bartali (ITA) – Manuel Bongiorno
• Classifica Gran Premi della Montagna del 96° Giro d'Italia (ITA) – Stefano Pirazzi
• Classifica a Squadre Tour of Denmark (DEN)
• Classifica Miglior Giovane Settimana Ciclistica Lombarda (ITA) – Manuel Bongiorno

Tra i 20 podi stagionali da segnalare quello di Stefano Pirazzi, 2° al Campionato Italiano a Cronometro, il medesimo piazzamento di Enrico Battaglin nella 7° Tappa del Giro d'Italia e di Sacha Modolo nella 21° frazione sempre del Giro d'Italia. I tre secondi posti di Sonny Colbrelli alla Volta a Limburg Classic, nella 4° Tappa del Tour of Denmark e infine al Tour of Almaty in Kazakhstan. Altro importante piazzamento il 2° posto del neoprofessionista Manuel Bongiorno nella prestigiosa Tre Valli Varesine, che ha anche conquistato il 3° nella Classifica Generale della Settimana Ciclistica Lombarda ed il 5° al Tour of Denmark (con un 2° posto nella 3° tappa).

DICHIARAZIONI
Roberto Reverberi, Direttore Sportivo:" E' stato un anno positivo con la conquista di risultati importanti ed una competitività continua da Gennaio ad Ottobre. Come facciamo da alcune stagioni abbiamo messo maggiore attenzione sulla qualità, cercando magari di correre leggermente meno e concentrandoci così su specifici appuntamenti, Giro d'Italia in primis. Forse alcuni 2° posti potevano essere tramutati in vittorie, ma quando si lavora con giovani atleti è una cosa da mettere in conto ad inizio anno. Alcuni corridori sono state delle bellissime soprese come i neoprofessionisti Bongiorno, Barbin e Zardini, mentre mi sarei aspettato qualcosa di più ad altri atleti in organico già da diverse stagioni. Per il 2014 mi attendo una crescita complessiva di tutta la squadra, che avrà sulla carta in Battaglin, Bongiorno, Colbrelli e Pirazzi gli atleti di punta".

2013 ANALYSIS: 11 WINS AND 20 PODIUMS
With the GP Beghelli of Sunday 13th and the 5th place achieved by Sonny Colbrelli is closed the 2013 season of Bardiani Valvole – CSF Inox Pro Team, started in January in Argentina with the Tour de San Luis.
The youngest squad between World Tour and Pro Continental teams has conquered 11 victories, 20 podiums and 77 placement into the Top-10 during 121 of day races. Between these wins the most important arrived during the 96° Giro d'Italia, with the stunning success of Enrico Battaglin in stage 4 and the blu jersey of King of Montain classification conquered by Stefano Pirazzi.

VICTORIES
• Tour de San Luis Stage 2 (ARG) – Sacha Modolo
• Giro d'Italia Stage 4 (ITA) – Enrico Battaglin
• Tour of Qinghai Lake Stage 1 (CHINA) – Sacha Modolo
• Tour of Qinghai Lake Stage 4 (CHINA) – Sacha Modolo
• Tour of Qinghai Lake Stage 8 (CHINA) – Sacha Modolo
• Tour of Qinghai Lake Stage 9 (CHINA) – Sacha Modolo
• Tour of Qinghai Lake Stage 11 (CHINA) – Sacha Modolo
• Tour of Qinghai Lake Stage 12 (CHINA) – Sacha Modolo
• Coppa Bernocchi (ITA) – Sacha Modolo
• Tour du Limousin Stage 2 (FRA) – Andrea Pasqualon
• Memorial Pantani (ITA) – Sacha Modolo
OTHER SUCCESSES
• Young Classification of Settimana Coppi & Bartali (ITA) – Manuel Bongiorno
• King of Mountain Classification of 96° Giro d'Italia (ITA) – Stefano Pirazzi
• Team Classification of Tour of Denmark (DEN)
• Young Classification of Settimana Ciclistica Lombarda (ITA) – Manuel Bongiorno

Between the 20 season podiums to report the 2nd place of Stefano Pirazzi at Individual Time Trial Italian Championships, the same placement achieved by Enrico Battaglin and Sacha Modolo in Giro d'Italia stages 7 and 21. The three second places of Sonny Colbrelli at Volta Limburg Classic, Tour of Denmark stage 4 and Tour of Almaty in Kazakhstan. Another important result has been the 2nd place of neopro rider Manuel Bongiorno in the Tre Valli Varesine, who also achieved the 3rd in Settimana Ciclistica Lombarda General Classification and the 5th at Tour of Denmark (with also a 2nd place in stage 3).

REACTIONS
Roberto Reverberi, Sport Director:" It has been a positive year where we got important results and high performance level during the whole season. As we did since some years we focused our activity on the "quality", with less races and more attention on some important events, as the Giro d'Italia. Maybe some 2nd places could be victories, but when you work with young riders you already know that. Some riders have been great surprise as the neopros Bongiorno, Barbin and Zardini while someone else, in our team since some years, raced below his level. For the 2014 I expect an important growth by the whole team who will have as leaders Battaglin, Bongiorno, Colbrelli and Pirazzi".
Comunicato Stampa